Minor characters in Raven Wayne.
Protagonists
Edit
Raven Wayne
Edit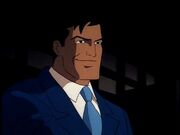 Bruce - Raven's father. He proved to be a good father after his wife died, but he felt that Raven needed a mother's care, so he married a woman named Pamela who had two daughters of her own, Kitten and Blackfire. Shortly after they arrived, Bruce invited Raven to feed their horse Phillip. When Bruce died, Pamela was revealed to have somehow tricked Bruce into marrying her to get her hands on his fortune for her own two daughters.
Conner - The prince and son of Clark and Lois. When Conner returned home after awhile, Lois and Clark made a ball to celebrate his return. He was then introduced to every maiden in the kingdom in the hopes that he'd fall in love with one. He was bored silly, especially with the pair of Blackfire and Kitten, before he noticed a girl in white and danced with her until midnight. When that happened, Raven left, despite Conner's pleas, leaving only a slipper, with Conner promising to marry the one who can get the slipper to fit on her foot.
Raven Wayne II: Dreams Come True
Edit
John - Rex's father. He was invited to the ball by Raven, and before that, he helped Clark and Lois repair a wagon wheel.
Shayera - Rex's mother. She was invited to the ball by Raven.
Rex - Rex is a friend of Raven's and tried to greet her after she returned from her honey moon until Lana objected to Raven letting them in. Rex was then taken off by his parents as he sadly waved good-bye.